Play for Free and Claim upto £200 in Free Bets at William Hill Free or 4 Goal Promo
Willian Hill currently has a fantastic promotion online where customers can win up to £200 in free bets without even needing to make a deposit. Simply put, play for free to win a William Hill free bet. The main thing the customer needs to do is to predict six games in which 3 or 4 goals are scored from the supplied match coupon. If 3 or 4 goals are scored in the chosen six matches then they can claim £200 in free bets to use across the William Hill betting site. This will be paid in the form of eight £25 free bets. William Hill is also offering a reward for anyone that successfully guesses the score under the same circumstances, 3 or 4 goals of five matches correctly to win a £5 free bet or of four matches to win a £1 free bet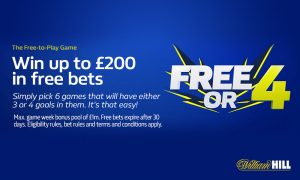 How do I get the Free or 4 goals promotion from William Hill?
If you wish to take advantage of the current William Hill 3/4 goals offer, all you need to do is follow some simple steps and you will be able to access the offer. The steps are as follows:
log on to the William Hill site from either your desktop or mobile. This can either be on their mobile website or through the William Hill app
navigate to "promotions" at the top of the screen
look for the promo box that says "Free or 4"
Click the green box below the offer poster that says "play for free"
once you have clicked this, you will be taken to a screen to pick the matches you want to make your guesses on
The Prizes are as follows:
x6 matches correctly pays £200 Free Bet

x5 matches correctly pays £5 Free Bet

x4 matches correctly pays £1 Free Bet
What are the terms and conditions of the William Hill Free or 4 promotion?
Like all betting site offers, William Hill have a few terms and conditions attached to this promotion. Here are a few of the main ones you might need to look out for:
the promotion is only available on the website
the promotion runs until 23:59 (UK time) Monday 21st May
if any match is abandoned, that fixture will be marked "void" and your remaining selections will still be valid to win either the guess five or guess four prize
you must use your free bet or bets within 30 days of receiving them or they will be automatically deleted from your account
Back to Offers