Score a £5 Free Bet from 10Bet If More Than 2.5 Goals are Played During Italy V Netherlands
The recently restarted UEFA Nations League is already ramping up in excitement due to a series of high-profile matches that are sure to gather a huge audience of football aficionados. Prime among them is Italy V Netherlands, the highlight of the three matches that will be played on October 14th. 10Bet seek to support the fans who will be keeping a close eye on the match by offering them a free bet worth £5.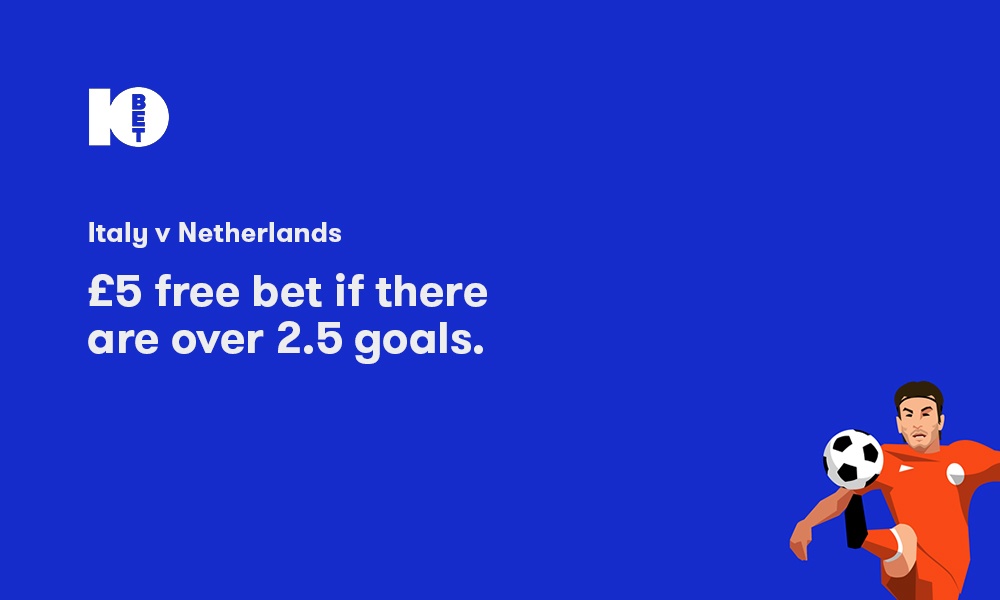 How The Offer Works
This is one of the very rare bookmaker offers which doesn't require you to deposit or bet on a specific match. Instead, whether you win or not depends entirely on how many goals Italy and Netherlands will score in their game. If between them they score 3 or more goals then anyone who participates in the promotion will automatically receive a £5 free bet added to their account.
It doesn't matter who wins, or exactly how many goals are scored during the match as long as the total number is 3 or more. That means that a 2-1 for either team or a 2-2 would all give you your free bet. You do not need to bet on this particular match or to deposit any money in order to opt into the promotion! But then how do you participate?
Sign up Bonus 5x Bonus and Deposit
Turnover
How to Claim the Free Bet
There are some strict terms and conditions related to obtaining the free bet. To help you out, we've compiled some instructions on what you need to do in order to take advantage of the generous offer:
Go to the bookmaker (you can use a 10Bet alternative link as well)
Visit the promotions page
Find the Italy V Netherlands promo and opt in
Go to the bets page and find a bet with odds of at least 1.8
Place your bet with real money (bonus funds won't count)
Wait until the match is played
If you followed these steps, once the Italy V Netherlands match is played, if the condition of over 2.5 goals is met, then you'll automatically be credited with a £5 free bet. Keep in mind that the bet must be wagered within 7 days, or else it will be lost! The winnings from it will be counted as bonus funds.
Good luck to Italy and Netherlands in the upcoming match – their success may be yours as well!
Back to Offers