10Bet Offer Free Bet if Your Horse Loses by a Head or Less
10Bet is offering you a chance to get your stake back on horseracing bets if the winner beats your horse in the game by a head or something less. The maximum refund amount is £10. This promotion is available for use with all horse races at the bookmaker. To get the refund, you need to email 10Bet Support and include your bet ID. On the subject line, write 'head or less money back.'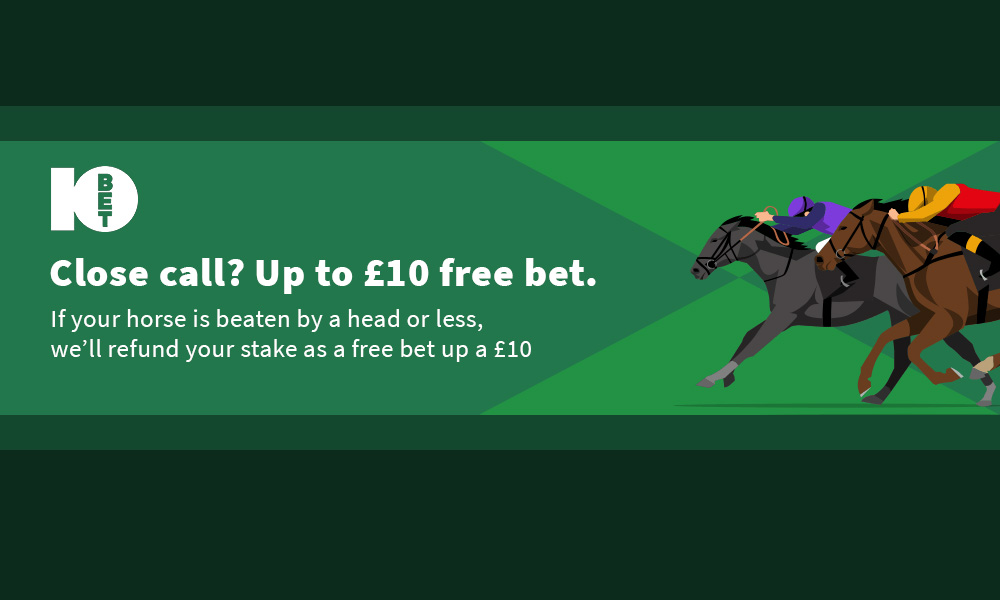 Terms & Conditions
This promotion is available to all the customers that place an eligible bet on horse racing games on the sportsbook. However, if you have received an email that excludes you from taking part in promotions, you do not qualify for the promotion.
The eligible bet to receive a refund is either Win or Each Way. You can bet on any horse racing game on the 10Bet platform. However, cashouts, trica stand forecast bets do not take part in the promotion. Similarly, if you play with bonus money or free bets, the best cannot take part in the promotion.
10Bet uses the final official results to determine if the bet in question is eligible for the refund. Besides, the horse which you bet on must complete the race second and be beaten by the winning horse for a distance of a head (0.2 of a length).
Sign up Bonus 5x Bonus and Deposit
Turnover
However, you must email support within seven days after the completion of the game to receive a refund. Games past this period will not count towards the promotion. The amount offered is equal to the full amount that you placed in the bet up to £10. Players get the 10Bet free bets within 24 hours after sending the email.
Players can only use the bonus amounts on win part in the Each Way bet. The place part follows the set terms and conditions. Besides, if there is a dead heat second, where the winner beats two horses with the head, bets on both horses shall be eligible for the refund. However, if there is a dead heat in the winner position, the second-placed horse will not be eligible for a refund even if it has lost by a head.
You can use the 10Bet free bets to stake on any horse racing games with odds of between 4/5 and 7/1. You are to use the full amount on a single bet within seven days of the award.
Back to Offers