Predict The Scores Of Three Selected ⚽ Games To Win £100 Cash With Ladbrokes 1-2-Free Promotion
The Ladbrokes 1-2-FREE promotion offers players from the UK the chance to win up to £100. To win Ladbroke's customers must predict three correct scores of selected matches. Also, they can enter the promotion for free. The Ladbrokes 1-2-FREE promotion is available on Ladbrokes mobile website or app.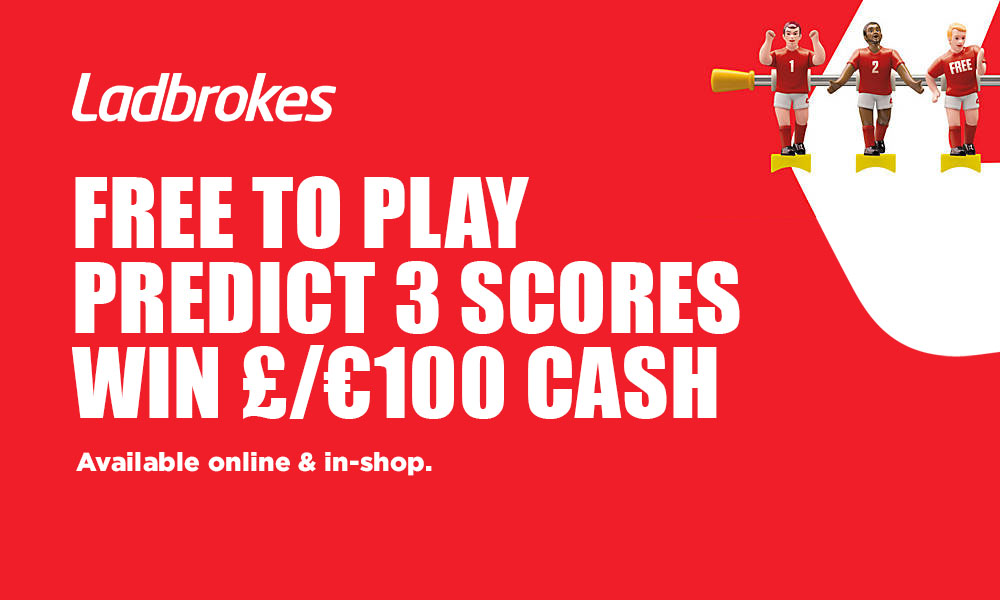 The Rules of Ladbrokes 1-2-FREE Promo
The promotion is available to UK and Northern Ireland residents. And players must be over 18 years old and registered customers of the Ladbrokes sportsbook. Each customer can make 1 entry per week. The promo isn't available to the sportsbook's employees or the employees of any company connected to Ladbrokes. New players who open accounts and make deposits through Paysafe, Neteller, Skrill, or PayPal Moneybookers cannot access the promo.
Players must make their predictions before the beginning of each selected game with any predictions made after the start of a match aren't valid.
With 3 successful score predictions, customers will earn £100 in cash
For 2 out of 3 correct predictions, customers will win a free bet worth £5
For 1 out of 3 correct predictions, customers will win a free bet worth £1
In case a selected match is void, customers who predict the correct score still have a chance to win. If one game is void and players make 2 correct score predictions, they'll earn a 5 free bet. In case 2 games are void, players who make 1 correct score prediction, can earn a 1 free bet. But if 3 games are void, the sportsbook won't award any prizes. Players cannot claim free bets for cash. Customers must wager the free bets as 1 bet on any sports game. Customers can withdraw cash winnings from their online account after verification.
Sign up Bonus

1x Bonus and Deposit
Turnover
Need-to-know terms and conditions.
Access to Ladbrokes website is granted to players who are not residents of the sportsbook's restricted territories. Therefore, the website isn't available in countries with restrictions to betting sites. LC International Limited owns and operates Ladbrokes website and app. Also, worth noting is that LC International Limited holds gambling licenses from the British Gambling Commission and the Gibraltar Gambling Commissioner.
*See Ladbrokes for the full terms and conditions
Back to Offers